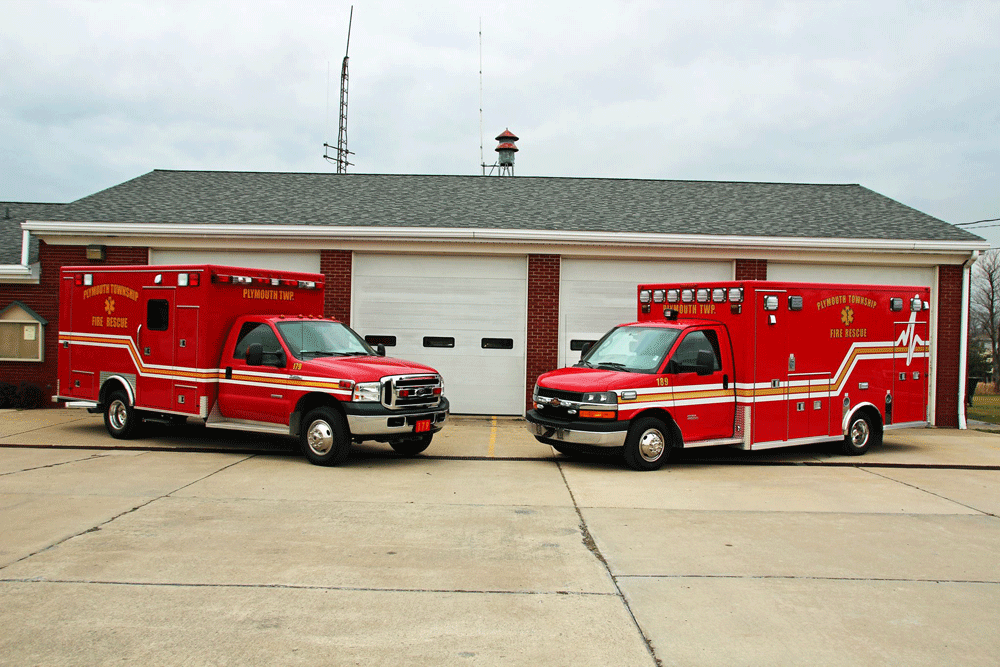 Plymouth Township Fire Station Addition/Renovation
REQUEST FOR STATEMENTS OF QUALIFICATIONS
ARCHITECTURAL AND ENGINEERING SERVICES FOR THE CONCEPTUAL DESIGN, ENGINEERING, AND CONSTRUCTION DOCUMENT PREPARATION FOR PLYMOUTH TOWNSHIP, ASHTABULA COUNTY, OHIO, FIRE STATION ADDITION/RENOVATION PROJECT
Plymouth Township, Ashtabula County, Ohio is accepting Statements of Qualification from professional teams for the design, construction, and construction administration of the Township's fire station addition/renovation project. Plymouth Township is a progressive, rural community of approximately 2,000 residents, located 50 miles east of Cleveland in central Ashtabula County. It is 22.4 square miles in area and just four miles south of Lake Erie. The Fire Department recently transitioned from a volunteer, unmanned station to a combination department utilizing two part-time firefighter/EMS personnel staffed at the station, 16 hours/day, 7 days/week. This part-time staff is backed up by off-duty part-time employees along with paid-per-call responders. The current fire station was built in 1968 and was not designed or built with the intention of on-duty staff. Additionally, the station has little administrative space. The fire department provides both Fire and EMS service out of a four-bay station. The goal is to be staffed 24/7; however, to accomplish this, an addition is required. The addition will include administrative space; living quarters such as a day room, kitchen/dining, bunk rooms, toilet/bath/shower rooms; decontamination/laundry area; gear storage; general storage; exercise area; and an emergency generator for backup power. Renovation to the existing fire station will include the following: replace apparatus bay floor and floor drains; replace overhead and entry doors; update electrical systems; remodel restrooms and a small office area. The addition needs to be designed so that a future bay addition can easily be attached.
Anticipated Project Timeline:
Pre-qualification Conference to allow interested firms to visit the site and ask questions (optional)
Advertise for Statements of Qualifications (30 days)
Review and Evaluate Statements of Qualifications, and Interviews (30 days)
Request for Proposal and Award Contract (30 days)
Station Design, Engineering, and Construction Documentation/Plans Preparation (120-180 days)
Advertise for Construction Bids (30 days)
Start of Construction (Fall of 2022 or Spring of 2023)
Consultation during Construction
This Request for Qualifications is intended to identify architectural teams with experience in the planning, design, and building of fire stations; team qualifications and other relevant experience; or the ability for an architectural design team which does not have fire station design experience to team with a firm that does. The design team must have a great understanding of hot, warm, and cold zones that pertain to fire station design, with the health and wellness of the occupants of the fire station in mind. The Statement of Qualifications should address the following issues, which will be scored during the evaluation phase:
Fire Station Design Experience
List five relevant projects (projects performed for public clients) in the past 10 years, along with owner contact information (i.e., name, phone number, email address), for which your firm has provided, or is providing design services. Provide project-specific information about each.
How many years has your firm/team been providing design services?
How many years has your firm been in business under its present business name(s)? Identify any previous names your firm has done business with in the past if applicable.
Qualifications and Other Relevant Experience
List the categories of work that your firm normally performs with its own workforce.
Name the key personnel (e.g., design architect, project director, manager, superintendent, scheduler, estimator) who will be part of the proposed team for this project. Describe in detail the experience and expertise of each team member and which projects they were assigned to, as well as the role in the projects listed.
Name any and all consultants who are included as part of the proposed team along with their role and related experience. Consultants should include, but not be limited to, civil engineers, structural, mechanical engineers, electrical engineers, tele-data consultants, and security consultants.
Disclose your team's bonding and insurance capabilities. Include a statement of errors and omissions insurance coverage from the design team members.
List your team's methods and practices for maintaining the project schedule.
List your team's methods and practices for project reporting, in both the design and construction phases.
How will your team resolve any disputes that may develop between the design participants and the constructors?
Identify all claims, if any, currently pending in association with your design services.
Team's familiarity with various funding mechanisms for additions/renovations to fire stations.
In addition to the items mentioned above in Fire Station Design Experience and Qualifications and Other Relevant Experience, items listed on the Criteria Architect/Engineer Selection Rating Form will also be evaluated. This will not be an EDGE project; documentation for this is not required. If desired, please contact Fire Chief Strubbe for the Rating Form that will be used for scoring.
The Township reserves the right to issue addenda to this RFQ at any time. The Township will endeavor to notify firms who are on record with the Township as having received a copy of this Request for Qualifications when an update has been issued. It is therefore necessary that firms provide full and accurate contact information to the Township, including email addresses. Updates will be deemed to have been validly given if emailed or otherwise furnished to each firm's contact person of record. Notwithstanding the foregoing, all firms will be presumed to have actual knowledge of all information posted on the Township's webpage relating to this Request for Qualifications. Firms shall not avail themselves of incomplete knowledge and/or lack of familiarity of this Request for Qualifications and any addenda thereto resulting from the firm's failure to register with and provide accurate contact information to the Township (and/or a firm's failure to check the Township's webpage). Interpretations, corrections, and changes to the Request for Qualifications which are made in any manner other than a written addendum will not be binding. Firms considering responding to this Request for Qualifications are strictly prohibited from communicating with any member of Township's staff or representatives except as set forth in this Request.
The Township may request clarifications from any firm during the evaluation process. The Township may also provide the firm an opportunity to correct defects in its qualifications, if the Township determines it will not result in a competitive advantage for the firm and it is in the Township's best interest. Any clarification or correction that is broader than the scope of the Township's request may result in the firm's qualification being disqualified.
Firms should carefully review this RFQ for defects and questionable or objectionable matter. Comments concerning defects and objectionable material shall be made in writing and received by the RFQ contact at least ten (10) days before qualification opening. Protests based on any omission or error, or on the content of the solicitation, will be disallowed if these faults have not been brought to the attention of the RFQ contact at least ten (10) days before the qualification opening.
Responding firms will be evaluated separately and ranked in order of their qualifications. As part of this evaluation, the Township may hold interviews with individual firms. The Township expects to enter into contract negotiations with the firm ranked most qualified to perform the services needed. The Township also reserves the right, in any manner the Township deems appropriate, to enter into more than one contract for components of the project rather than a single contract for the entire project, and to rank and select more than one firm to provide services for components of the project rather than a single firm for the entire project.
Multiple qualification submissions from firms for the same service will be considered noncompliant and will be rejected.
The Township is not responsible for any costs incurred by the firm in the preparation and presentation of qualifications submitted in response to the RFQ.
All materials submitted become the property of the Township. Selection or rejection of a response does not affect this right. Submitted materials will not be returned.
Responding teams should include in their Statements of Qualifications all the information that is requested. Teams are encouraged to provide any additional information they feel will further demonstrate the firm's qualifications. Seven hard copies as well as one electronic version of The Statement of Qualifications are to be submitted no later than 12:00 pm May 6, 2022 to:
Plymouth Township Fire Department
1001 Plymouth Road
Ashtabula, Ohio 44004
Attn: Bill Strubbe, Fire Chief
440-344-1084
Qualifications may not be delivered by facsimile transmission or other telecommunication or electronic means. Firms assume the risk of the method of dispatch. The Township assumes no responsibility for delays caused by any delivery service.
Please submit questions pertaining to this RFQ via email to Fire Chief Bill Strubbe, plymouthchief@gmail.com. Chief Strubbe will then reply by email with answers.
Selection Process
Upon completion of the Qualification Evaluation, the Township shall create a "short list" by ranking no fewer than three firms that it considers to be most qualified respondents. The Township may hold interviews with the top ranked firms, at the Township's sole discretion. The Township reserves the right to interview multiple top-ranked Firms prior to a final selection. The interviews may be "in person" or "virtual", depending upon the state of the COVID pandemic and other factors. The individual team members that will be involved with the Project must attend such interview.
The Township reserves the right to refrain from contracting with any firm.
Once the contract is awarded, all documents submitted to the Township as part of the qualification become public information. The Township does not encourage the submission of confidential/proprietary information in response to the qualification. However, written requests for confidentiality may be submitted to the RFQ contact. A qualification in its entirety, nor qualification price, will not be considered confidential or proprietary. Under Ohio Revised Code Section 149.43, the Township will make the final determination of any requests for disclosure.
Fire Chief William Strubbe
Bill Strubbe joined the department as a cadet/junior firefighter in 1980. He was appointed by the township trustees as the Fire Prevention Officer in 1991 and became Chief of the Plymouth Volunteer Fire Company in 1996. Following the restructuring of the department in October 2020, Bill was appointed Fire Chief of the Plymouth Township Fire Department.
Bill is currently certified in:
Firefighter II
State Certified Fire Instructor
State Certified Fire Safety Inspector
Hazardous Materials Technician
Hazardous Materials Incident Command
Hazardous Materials/Weapons of Mass Destruction Awareness Level Instructor
Hazardous Materials/Weapons of Mass Destruction Operations Level Instructor
Emergency Vehicle Driver Trainer Instructor
National Incident Management System Certified
Incident Safety Officer
Unified Command for Multi-Agency & Catastrophic Events
Radiological Monitoring
Trench & Excavation Rescue Awareness Level
Basic Wildfire
Former Basic EMT & Advanced EMT
Part-Time Firefighter and/or EMS Position
Plymouth Township is hiring for the position of Part-Time Firefighter/EMT or Firefighter/Paramedic. All candidates must have a valid driver's license and a minimum of State of Ohio Firefighter 1 and EMT Certifications. CE for Firefighter and EMS Certifications will be provided during employment. Eight and 16 hour shifts will be available, seven days a week. Benefits for Part-Time employees include Holiday, Quick Call and Night Shift pay. The department also schedules Standby Pay to cover times when the station isn't staffed. Benefits are subject to certain parameters.
Pay rates are:
FF1/EMT – $14.50
FF2/EMT – $16.00
FF1/Paramedic – $17.00
FF2/Paramedic – $18.00
Paid-Per-Call Firefighter and/or EMS Position
Plymouth Township is hiring for the position of Paid-Per-Call Firefighter and/or EMT and/or Paramedic. All candidates must have a valid driver's license and a minimum of State of Ohio Firefighter 1 and/or EMT and/or Paramedic Certification, or be able to obtain one of the above certifications within 12 months of employment. Candidate must reside within a seven-mile radius of the fire station. CE for Firefighter and EMS Certifications will be provided during employment. The Paid-Per-Call Position will be used to cover the station while the duty crew is out on a routine call; respond to emergencies that require additional personnel to assist the duty crew, such as major medical, fires, crashes, and rescues; and to cover all calls when the station is not staffed with a duty crew. The Paid-Per-Call employee will be required to be available/sign up for an agreed number of minimum hours per month. Pay rate will be $20.00 per call. Benefits for Paid-Per-Call employees include Night Shift, Fill-In and Standby Pay.
Applications for these positions are available through ohiomeansjobs.com, 2247 Lake Ave., Ashtabula, OH 44004, phone 440-994-1234.